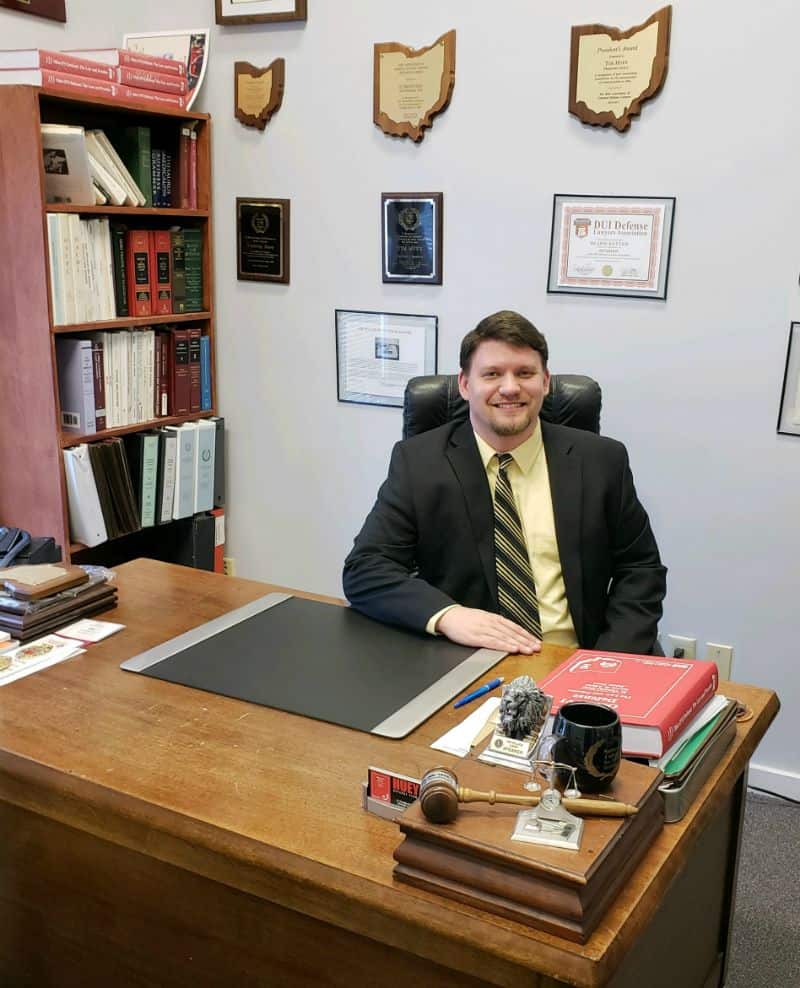 As noted elsewhere, at our firm we work as a team.
Blaise Katter is a very integral part of the team. In most of our cases he and Mr. Huey will work closely together. From the outset colleagues in the defense community and at the courthouse have noted how well the two work together; more than once they have been referred to as the dynamic duo.
Below is some information about;
the background and experience Blaise brought to the table when he joined our firm
the work he has done, and training and experience he acquired, while at our firm that has caused him to be viewed as a rising star in the areas of criminal and DUI defense.
College and Law School
Blaise Katter is a proud Buckeye, having attended The Ohio State University for both college and law school. He graduated magna cum laude with a BA degree with Honors Research Distinction in Political Science and International Studies, where his Honors Thesis dealt with a comparison of Western European and American constitutional government.
In law school he was selected to represent The Ohio State University at a national Moot Court competition reached Sweet Sixteen in the Herman Moot Court Competition. He was a recipient of a Moritz Academic Merit scholarship and spent a semester at Oxford University in the United Kingdom.
Blaise also is proficient in Spanish and holds a Black Belt in a AIKIDO.
Legal Experience Before Joining the Huey Defense Firm
Before coming the Huey Defense Firm. Blaise had experience with the Ohio legislature as well as the Franklin County Prosecutor's Office with both the Criminal and Appellate Units gaining a great deal of experience drafting briefs and preparing appellate court arguments as well as doing research and legal memoranda for use at hearings and at trial.
In 2013 the Speaker of the Ohio House of Representatives and President of the Ohio Senate created a committee that was tasked to, literally, rewrite the Ohio Criminal Code.
The Ohio Criminal Justice Recodification Committee was made up of 24 members including an Ohio Supreme Court Justice, several judges, legislators, members of the Governor's cabinet, prosecutors, the Ohio Public Defender and members of his office and (only) two lawyers in private practice. Mr. Huey was one of those lawyers and the only committee member with a significant DUI defense background.
Blaise Katter was hired as a Staff Attorney for the Recodification Committee at the recommendation of Professor Douglas Berman, a highly respected OSU professor whose principal teaching and research focus is in the area of criminal law and criminal sentencing.
The Recodification Committee members were impressed with Blaise's work. This was particularly true of Mr. Huey who worked closely with Blaise in efforts to significantly change critical parts of the Ohio criminal law. In particular, Blaise showed a strong desire to make the criminal laws fairer and to ensure that the powers given to police, prosecutors and judges did not infringe upon the constitutional rights of accused citizens.
In addition, Mr. Huey was impressed with Blaise's research and writing skills (not to mention his knowledge of even arcane provisions of the criminal code) and his ability to communicate ideas. He noted that Blaise showed a great deal of poise and confidence when presenting to the full committee and that he quickly developed a good relationship with many of the most important members.
As soon as the Recodification Committee fished its work the Huey Defense Firm snapped Blaise up and he came to work with the firm full time the next day.
Rising Star in Criminal and DUI Defense 
Prior to joining our form Blaise already had a strong background in legal research, analysis and writing. He also knew a number of the key players in the criminal law community; prosecutors, judges, legislators and public defenders.
In anticipation of joining our firm, while still at the Recodification Committee, Blaise:
attended the Ohio Association of Criminal Defense Lawyers (OACDL) advanced DUI defense seminar,
Sought out and attended training in Standardized Field Sobriety Testing (the same training officers receive) taught by Col. Robert LaPier, a NHTSA Master Instructor and,
Read Mr. Huey's book, Ohio OVI Defense – the Law & Practice, cover to cover.
Shortly after joining our firm Blaise:
Traveled to Atlanta Georgia to attend intensive training put on by the national DUI Defense Lawyers Association focused on breath alcohol testing taught by nationally recognized breath testing expert Jan Semenoff, who also publishes and online journal.
Blaise hit the ground running, after joining our firm and in his first year he:
Like Mr. Huey, Blaise Katter understands the value in joining and being very active in organizations made up of criminal defense and OVI defense lawyers, which seek to help train lawyers, promote better laws and debunk pseudo science, there Blaise
is a member of the National DUI Defense Lawyers Association
is a member of the Ohio Association of Criminal Defense Lawyers (OACDL),
was made an OACDL Board Member at the fall 2018 Annual Meeting,
serves on the OACDL Continuing Legal Education (CLE) Committee and OACDL Public Policy Committee.
While Blaise has developed exceptional expertise in OVI defense while at our form, his background and interests are in a broader criminal defense practice as well as continuing to defend college students at the university level against misconduct allegations and Title IX cases,
Blaise Katter is very enthusiastic and committed to helping Mr. Huey prepare the best possible defense for our client and Huey Defense Firm is very happy to have him on the team.